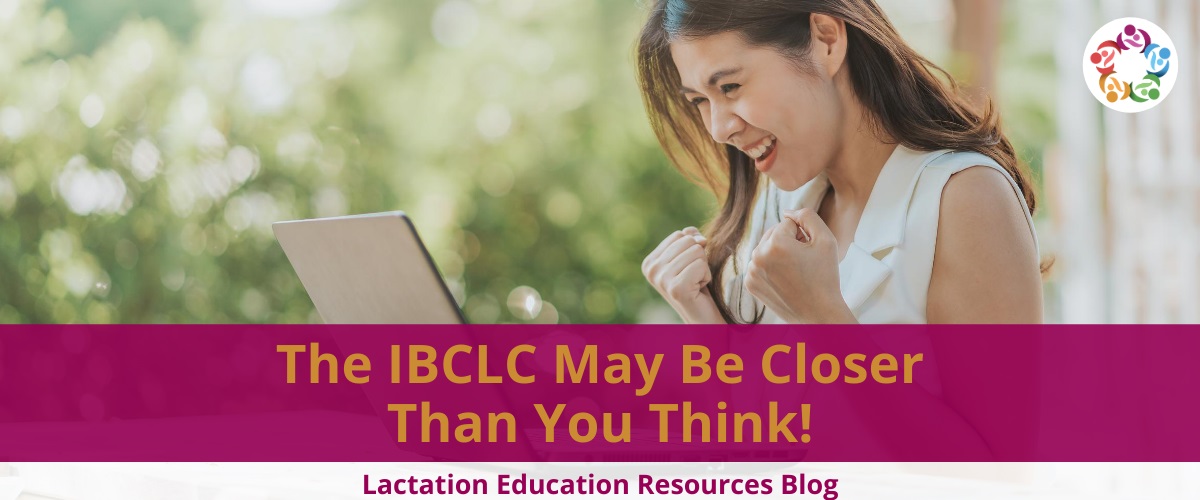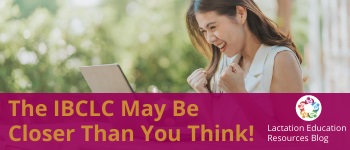 So many people who are excited about working in the lactation field begin by earning a certification like Certified Lactation Educator, Certified Lactation Specialist, Certified Lactation Counselor, WIC Breastfeeding Peer Counselor, LER's own Certified Breastfeeding Specialist, or one of the many other "mid-level", shorter lactation trainings out there.
Many then use that training to help families through work or volunteer experience, getting hands-on time providing clinical lactation support. While they would love to take the next step by becoming an IBCLC, they know more education and training is involved, so it seems like a dream for "someday."
Sound familiar? If the description above fits you, the IBCLC may actually be closer than you think!
To be eligible to take the IBCLC exam, you need to complete three components:
clinical hours, general health science education,
and
90 hours of lactation education
.
Clinical Hours
If you are providing lactation support through your work, or if you're a trained counselor for a peer support organization, you may already be earning Pathway 1
clinical hours
without realizing it! And if you are seeking to earn your clinical hours through mentorship in Pathway 3, you may be interested in LER's
internship program
. (Not familiar with the Pathways? Read more about the different options
here
.)
General Health Science Education
If you're already a health care professional like a nurse, dietitian, physician, or midwife, you've automatically fulfilled the
general health science education
requirements with your prior training. Even if you're not, the list includes many classes you may already have taken, like biology, nutrition, and statistics. (You can find a full list
here
, as well as links to LER partners offering courses you may still need to complete.)
90 Hours of Lactation Education
The final step is simply to complete your
90 hours of lactation education
. Your current training has given you a good foundation in lactation support basics via 45-55 hours of didactic education - so you're already at least halfway to the 90 hours! That's where LER's new
Lactation Consultant Bridge Course
comes in: you can complete your education hours, prepare for the IBCLC exam, and most importantly, prepare for the advanced practice knowledge and skills required for IBCLC professional practice.
To create the Bridge course, we took a deep dive into what was covered in the course for our basic credential, the Certified Breastfeeding Specialist. We considered the additional necessary topics to provide a truly well-rounded IBCLC education. When you walk into a room as an IBCLC, the expectation is that you have a comprehensive, in-depth education to be prepared for almost any question or scenario. We compiled our cutting-edge workshops and lectures into the Bridge course, with a focus on compelling topics that lactation consultants face in practice.
Bridge topics include working with multiples, premature infants, relactation and induced lactation, infant feeding response in disasters, and
so much more
. In total, the Bridge course offers 45 hours of amazing content to prepare you for a wide range of practice situations. We hope it will enable you to complete your lactation education and that once you've "crossed the bridge" to IBCLC, you'll realize it really was closer than you thought!
Common questions about the Lactation Consultant Bridge Course:
Does the course confer a certification like Certified Breastfeeding Specialist?
No - the Bridge course doesn't give you the foundational parts of your lactation education, but builds on a basic course you have already taken. To enroll in the Bridge course, you should have already completed a basic education course/certification l (often 45-55 hours long).
Don't you need to go through a specific educational program to become an IBCLC?
You can source your 90 hours of lactation education from a variety of places! While you can "piece together" your education from different sources, IBLCE recommends that your education cover all the topics on the
IBCLC Detailed Content Outline
. The Bridge course is intended to fill in gaps in your education beyond your original training, and to help prepare you thoroughly for the exam and for practice.
Where can I complete the 5 hours of communication skills education that is now required by IBLCE?
We've got you covered! A communication and counseling skills course will also be available from LER for those who still need to complete that requirement. (It will be offered separately from the Bridge course.)
Related Posts
By accepting you will be accessing a service provided by a third-party external to https://www.lactationtraining.com/