100-Hour & 500-Hour Internships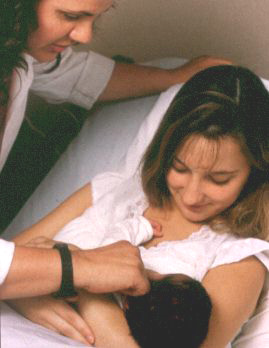 If you have a good deal of clinical lactation management practice and would like to validate and enhance your clinical skills, the 100-hour program is for you. This program is specifically for professionals who just want to increase their experience in an area where they do not have experience, such as a NICU nurse who wants experience with out-patient, older healthy babies.
If you are new to the field of lactation management and would like to qualify for the IBLCE Exam by Pathway 3, the 500-hour program will offer you a wide range of clinical experiences working with experienced lactation consultants. Start at any time, choose your days and hours.
Lactation Education Resources will work with you in facilitating an internship at an existing site or guiding you through the process of finding a local internship site close to home when possible. Our clinical internship director will work with your clinical site's education department to establish an affiliation agreement between the hospital and our school.
Please contact our internship director, Amy Black, at This email address is being protected from spambots. You need JavaScript enabled to view it. for assistance in finding / establishing a hospital setting internship.
Important Internships are subject to approval by the IBLCE as well as the clinical site IBCLCs. Interviews are required at each site to determine the suitability of the candidate, internship schedules, and expectations for each specific site. We are here to facilitate internships for students, but cannot guarantee placement.
The application process for an internship through Lactation Education Resources has four steps:
Complete and submit the Intern Pre-Registration Form and pay the $100 fee. This fee will be applied towards your internship tuition and is non-refundable, unless we cannot find placement for you.
At this time, we can only accept students that have done their lactation training or a significant portion of their training through Lactation Education Resources
Complete the Intern Application Form and submit it along with your internship tuition payment ($750 for the 100 hour program or $1,500 for the 500 hour program). Installment plans are available.
Complete the Background Check Form (extra fees charged).