Your Last-Minute Guide to Recertifying By CERPs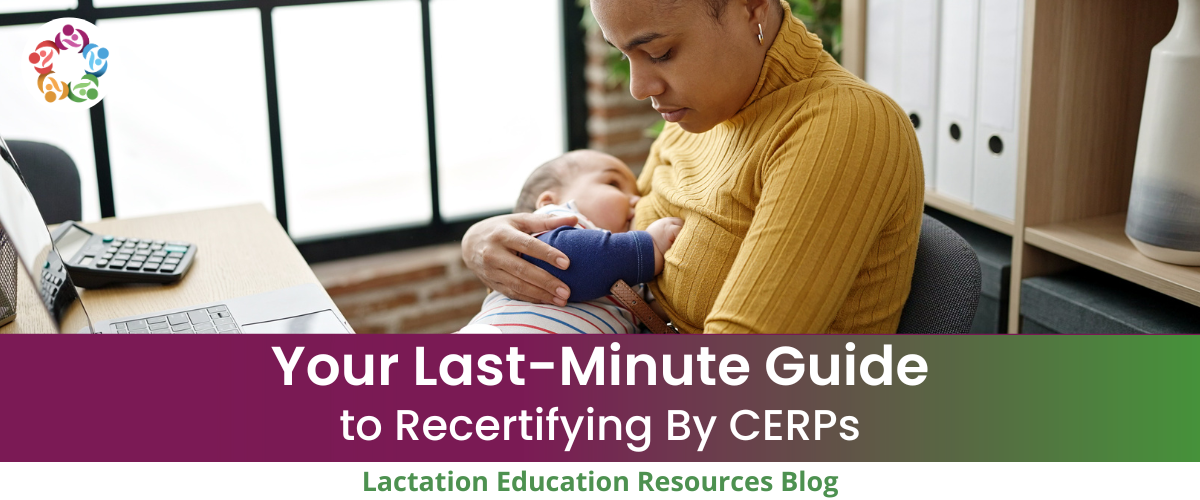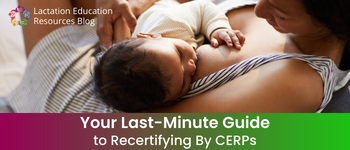 Sometimes, life sneaks up on you. You think you have all the time in the world … until suddenly, you don't.
If this is where you find yourself with renewing your IBCLC certification by CERPs, we get it. And we're here to help.
Maybe you need just a few more CERPs in a certain area. Maybe you've attended a conference and taken a class or two, but you need several more. Or maybe life really snuck up on you and you need nearly all of them.
You can still do this. No matter where the September 30 application deadline finds you, you can still make it to the finish line in time. Here's how:
If this is you:
I'm almost there! I just need a few more CERPs to get to 75.
Do this:
Choose from our catalog of continuing education courses.
We have the most comprehensive course catalog in lactation education today. And since all of our courses are online, you can complete them at home and on your own time, before the deadline hits.
We continuously update our offerings with the most critical topics in lactation practice today–we've recently added courses on serving gender-diverse clients, cannabis use in lactation, food allergies in human milk, intimate partner violence, infant feeding in emergencies, HIV and lactation, and more. And, our instructors are subject matter experts working in the field, so their advice is both evidence-based and real-world tested.
If this is you:
I have some CERPs, but I still need quite a few more.
Do this:
Use our
course bundles
and conferences to earn CERPs quickly, efficiently, and affordably.
We offer 15- and 20-CERP bundles, as well as other content-specific bundles. You can also
build your own bundle
around the courses you need to fulfill your Personalized Professional Development Plan, at a substantial savings over the cost of individual classes.
Our
online conferences
are also a great way to earn several CERPs in one place. Current offerings provide between 4 and 14 CERPs on hot topics from clinical skills to tethered oral tissues and more, allowing you to take a deep dive with leading experts.
If this is you:
I need CERPs in specific areas! How do I find courses that will work?
Do this:
Use our unique tool to search by IBCLC exam Detailed Content Outline area.
Okay, this one is so easy, we really can't wait to show you the answer!
As soon as the IBCLC Commission created the CE Self-Assessment process requiring IBCLCs to earn CERPs in specific areas, we knew IBCLCs would need a solution for this. So we created one.
Under the search options on our
continuing education page
, you'll find a tool that allows you to search by IBCLC exam Detailed Content Outline (DCO) area. Just click on the DCO area you need, and you'll see every course LER offers that provides CERPs in that area. Pick the one that enriches your practice the most!
If this is you:
Help! I need ALL (or almost all) the CERPs!
Do this:
Use our 75-CERP Recertification Bundle to get it all done.
It happens. Life gets crazy.
If you need all or most of your 75 CERPs, we have a way for you to get them in one simple place: our
75-CERP Recertification Bundle
. It provides everything you need, regardless of the results of your CE Self-Assessment, since all IBCLC exam DCO areas are covered.
You can do this! We can help.
Our recertification page has info and resources.
Our blog post offers a step-by-step guide to recertifying by CERPs and answers the most common questions.
Our friendly, expert staff is available to answer recertification questions and help you make a plan for success. Reach out to them today.
By accepting you will be accessing a service provided by a third-party external to https://www.lactationtraining.com/