Recertifying By CERPs: Your Step-By-Step Guide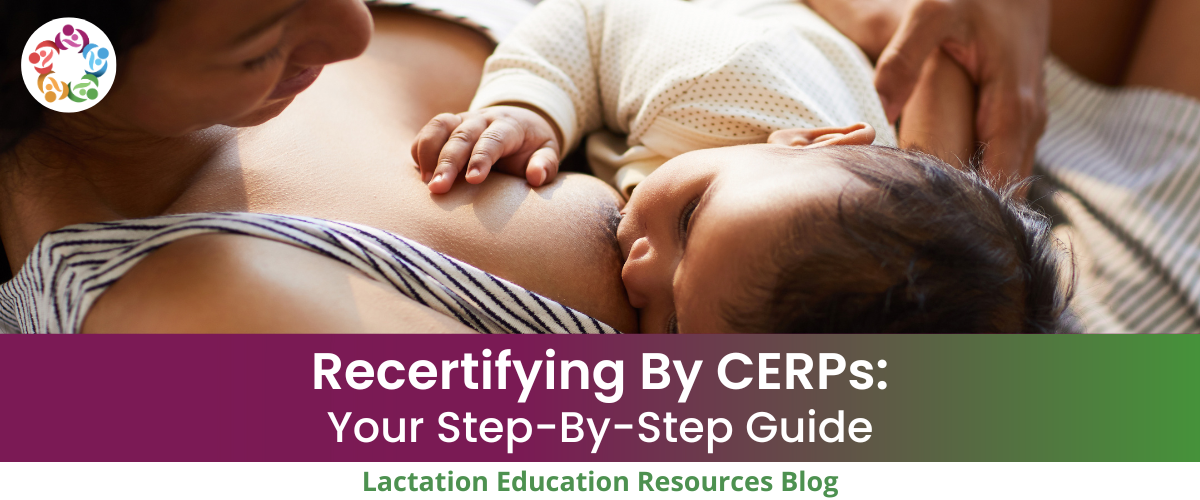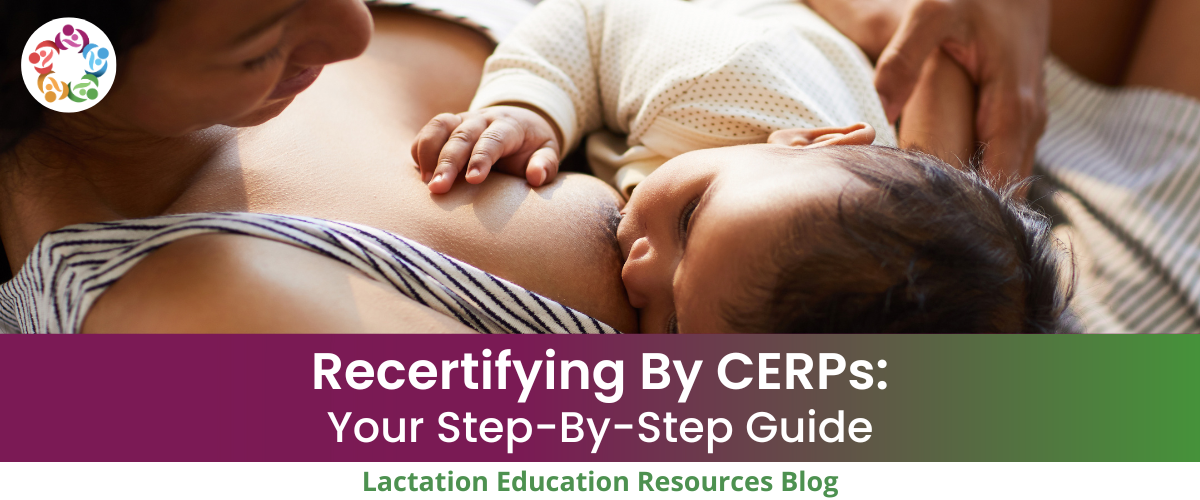 By now you probably know that re-taking the IBCLC Exam is no longer required for recertification.
IBCLCs can keep their certification valid every five years using Continuing Education Recognition Points (that's "CERPs," for short).
That's great news, right? Right!
And also potentially confusing.
There are a lot of details to understand.
Don't worry. It's simpler than it looks, and at LER, we have powerful new tools to help make it easy, including course bundles that help you get CERPs efficiently and affordably and a new search feature that ensures the courses you choose are the exact ones you need.
Once you see the big picture and the fine print, we know you'll feel confident planning your path to re-CERP-ification!
STEP ONE: Understand The Basics of Recertifying By CERPs
A few things to know right off the top, before we get into the nuances:
Everyone who recertifies by CERPs must earn 75 total.
Everyone needs 5 Ethics and Professional Conduct CERPs (E-CERPs) and 3 CERPs for Basic Life Support (CPR or Neonatal Resuscitation Program). That leaves 67 remaining CERPs to earn.
Of those 67 CERPs, 50 must be L-CERPs (Human Lactation and Breastfeeding CERPs).
Once you've checked those boxes, the balance of your CERPs can be R-CERPs … that means "CERPs related to IBCLC practice, but not to lactation or ethics."
(Still with us? Good!)
STEP TWO: Taking the Continuing Education Self-Assessment
Everyone who wants to recertify by CERPs must complete IBLCE's new testing tool to identify gaps in their knowledge and skills. Then, those gaps must be filled with CERPs.
The CE Self Assessment is computer-based and free. It consists of 70 multiple choice questions aligned to IBLCE's
Detailed Content Outline
(the "DCO" is the document which forms the basis for the IBCLC Exam). Once you start, you'll have two hours to finish, and you cannot stop and restart. You can only take it once during every five-year cycle.
IBLCE makes the CE Self Assessment available to IBCLCs due to recertify. Learn more
here
.
Each IBCLC receives access to the CE Self Assessment test 18 months after they certify or recertify. Once you become eligible, you will receive an email from IBLCE with log-in details for the CE Self-Assessment Dashboard. Then, you'll be able to go take the test.
STEP THREE: Receive your Personalized Professional Development Plan
Your CE Self Assessment will automatically generate a Personalized Professional Development Plan. This plan dictates the DCO areas where you need to earn some of your CERPs.
Here's how it works: The assessment gives you a score for each area of the DCO. You are required to earn at least three CERPs in any area in which you score less than 75 percent. If you score less than 75 percent in multiple DCO areas, you are free to distribute your CERPs in any way you see fit–as long as you earn three CERPs in each area identified.
STEP FOUR: Determine How Many CERPs Must Be Based on Your CE Self Assessment
Buckle up–here's where it gets a little tricky. But we're going to make it easy.
IBLCE is phasing in the CE Self Assessment process over time. So how many CERPs you need in specific categories depends on your recertification year.
It is possible that you will not have any areas identified by your CE Self Assessment as in need of more education. If this is the case, you get to choose the areas in which you earn CERPs, choosing those that fit with your interest areas or career goals (based on the Detailed Content Outline DCO).
If you are recertifying in 2023 and you do have one or more required topic area identified by your CE Self Assessment, you must earn a minimum of 3 CERPs in each of those topic areas.
If you are recertifying in 2024 or later, and you have one or more required topic area, you must earn at least 5 CERPs in each of those topic areas.
(Good so far? Great! You've got this.)
STEP FIVE: Earn Your CERPs
Now that you know how many CERPs you need and in what topics, how will you get them?
One CERP is the equivalent of 60 minutes of education on the specific topic in the DCO you're trying to cover. In-person and online courses count, as well as conferences, independent study modules … there are a lot of options.
But how do you know if a specific learning opportunity adequately covers the area you need to fulfill? And how do you find the right courses?
At LER, we have been working on a unique way to answer that question–quickly, easily, and accurately.
When you go to our
Recertification Page
or our
Continuing Education Page
, you will find a search engine that specifically delivers our courses that cover the DCO topic you need. Simply tick the box for the topic area you need and then choose from our frequently-updated courses covering that topic.
Our
Course Bundles
are also a great way to get your CERPs all in one place.
Documenting your CERPs is easy with LER courses–our certificates of completion now list the DCO areas covered by each course. (If you took a course before this was true, go
here
to look up your course, discover which areas it covered, and request a new certificate of completion).
STEP SIX: Don't Forget About Clinical Hours
In addition to earning 75 CERPs, you will need to engage in 250 hours of lactation consulting practice during your 5 year certified period. These hours can be paid or volunteer and can include education, administration, research, or advocacy, in addition to directly supporting lactating families.
IBLCE offers a
calculator
to keep track of your hours.
STEP SEVEN: Apply During the Window
Once you have completed all the requirements (Basic Life Support and CERPs according to your Personalized Professional Development Plan, and 250 clinical hours), it's time to apply for recertification.
IBLCE offers one window each year to recertify by CERPs.
Keep an eye on
this page
for future recertification window dates.
THE FINE PRINT
Now that you have the big picture, here are a few additional things to know:
If you earned CERPs before you took the CE Self Assessment, they can still be applied to the areas you need, as long as they cover that subject area.
If you take the CE Self-Assessment, but then decide to recertify by exam, that is okay. Just make sure to apply to take the exam during the application window.
You do not need to submit proof of earning your 75 CERPs, but you should keep all documentation, in addition to a copy of your Personalized Professional Development Plan, in case your application is audited.
THE DISCLAIMER
Changes happen at the IBCLC Commission, just like anywhere else. We always encourage you to confirm the details directly with the IBCLC Commission.
WE CAN HELP!
You made it!
We hope this Recertification Guide helped clarify the process for you.
If you still have questions, our experienced team is ready to answer them. Just reach out at
This email address is being protected from spambots. You need JavaScript enabled to view it.
.
By accepting you will be accessing a service provided by a third-party external to https://www.lactationtraining.com/