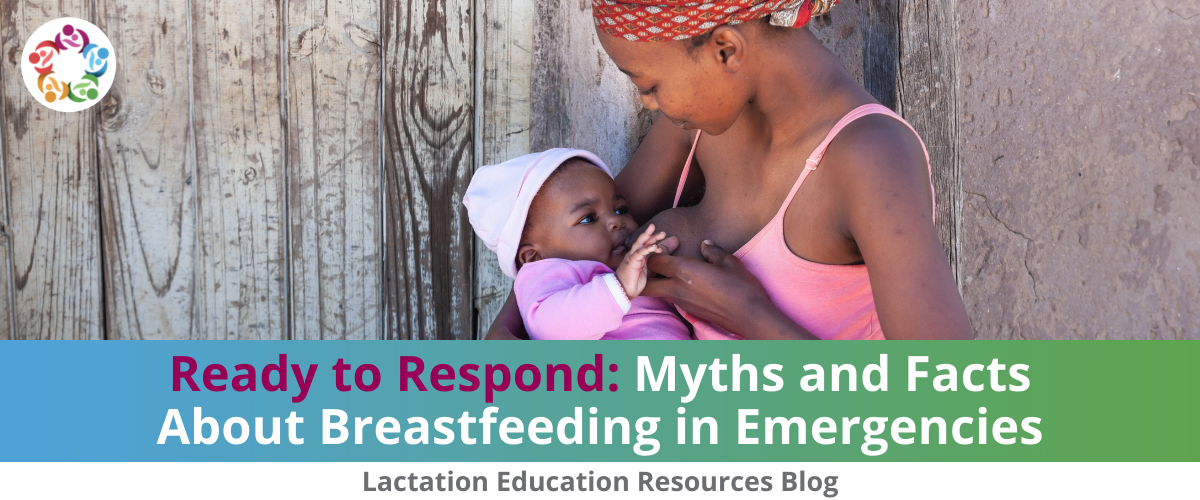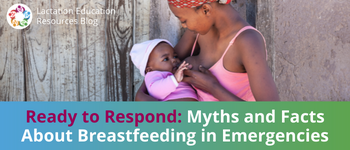 We live in a time when natural disasters arising from global climate change are on the rise, conflicts are ongoing in many areas of the world, and global pandemics can spread quickly across populations and oceans. It's increasingly clear that large-scale emergencies can happen anytime, anywhere, in any community.
That includes yours–and that's where you come in.
You may not think of yourself as a member of the emergency response community. But as someone with specialized lactation training, your knowledge could be the key to helping protect your community's most vulnerable members in the event of an emergency.
When disaster strikes, infants and young children are the most at risk. They are more vulnerable to infections, they cannot take care of themselves, and their nutritional needs are very specific.
Worldwide, mortality rates for children under 1 year of age in disasters are as high as 53 percent.
Despite this reality, disaster preparedness plans at the community, country, and global level often fail to address the needs of infants and young children.
In fact, disaster plans are more likely to include the needs of pets than those of infants, young children, and their caregivers.
In a new blog mini-series, we will share information about Infant and Young Child Feeding in Emergencies (IYCF-E) critical to know as a lactation professional. We hope you find this information helpful as you share your skills–with your community, your state, your country, or the world.
Myths and Truths
Misunderstandings and misinformation about feeding infants and young children in emergencies abound. When a disaster strikes, inaccurate information is quick to emerge–in messages flashing across TV screens, in social media posts, and among emergency workers who have not been given correct information.
Being able to educate those around you, including first responders in your community, with basic, accurate information is a powerful tool.
In this first post in our series, we'll tackle the most common myths.
Myth #1:
Breastfeeding is not important in an emergency–there are many higher priorities.
Fact:
There is a huge body of research illustrating that infants consuming formula during an emergency are at far greater risk of illness and death than those consuming their parents' milk. Take this example: In a major flood in Botswana in 2005, formula-fed babies were 30 times more likely to present at the hospital for treatment with diarrhea than were breastfed infants; in one village in the aftermath, 30 percent of the infants fed formula died, while none of the breastfed infants died.
This is not an isolated case study. The results hold true across many, many global disasters studied.
Myth #2:
Infant formula is safe in emergencies in high-resource countries, and only poses risks in developing countries.
Fact:
Power outages, fuel shortages, and lack of clean water all make feeding formula safely in an emergency a major challenge–and they can happen anywhere. High-resource countries are not immune to the complete collapse of infrastructure that a disaster can cause.
Myth #3:
A parent should stop breastfeeding if their baby has diarrhea.
Fact:
Human milk is the best remedy for a baby with diarrhea. It provides water, nutrition, vitamins and minerals to combat dehydration, and immune factors to fight infection.
Myth #4:
If a parent stops breastfeeding, they can't start again and will have to keep feeding formula.
Fact:
A parent can re-lactate after a period of not breastfeeding. The keys, alongside adequate breast stimulation, are the parents' motivation and the support, education, and encouragement they receive.
Myth #5:
A malnourished parent cannot breastfeed–so if the emergency involves food shortage, babies will automatically need formula.
Fact:
Moderate malnutrition has little or no effect on milk supply.
Myth #6:
Stressed/traumatized parents cannot breastfeed.
Fact:
Stress does not cause supply to diminish. Stress can cause delayed milk ejection reflex (MER). It's crucial to educate lactating parents on the difference, so delayed MER is not interpreted as lack of milk. Creating calm spaces for feeding and encouraging parents to see feeding as a time to relax as much as possible with their baby can help.
Myth #7:
Supporting human milk feeding in emergencies starts after a disaster strikes.
Fact:
In the aftermath of Hurricane Katrina in the U.S., the American Academy of Pediatrics announced that the biggest take-away from the disaster was that
increasing the current rate of breastfeeding before an emergency is fundamental to optimizing infant nutrition and safety when disaster strikes
. Meaning: Whenever you are working to educate your community about the importance of human milk feeding and to support parents' success, you are doing emergency preparedness work!
For more on how lactation professionals can support IYCF-E, stay tuned for the next blogs in our mini-series.
Ready to learn more now?
This information was drawn from our course
Infant and Young Child Feeding in Emergencies
Instructor Malaika Ludman, MPH, CLC, brings years of work in international public health to the course, while co-instructor Latona Giwa, BSN, RN, IBCLC, contributes her experience as co-founder of the New Orleans Breastfeeding Center, her first-hand experience working in shelters following disasters, and her experience co-creating Infant Ready, a grant-funded program of the New Orleans Breastfeeding Center that provides disaster preparedness training and supplies to families and their supporters. Together, Ludman and Giwa provide an in-depth exploration of IYCF-E for lactation professionals.
By accepting you will be accessing a service provided by a third-party external to https://www.lactationtraining.com/