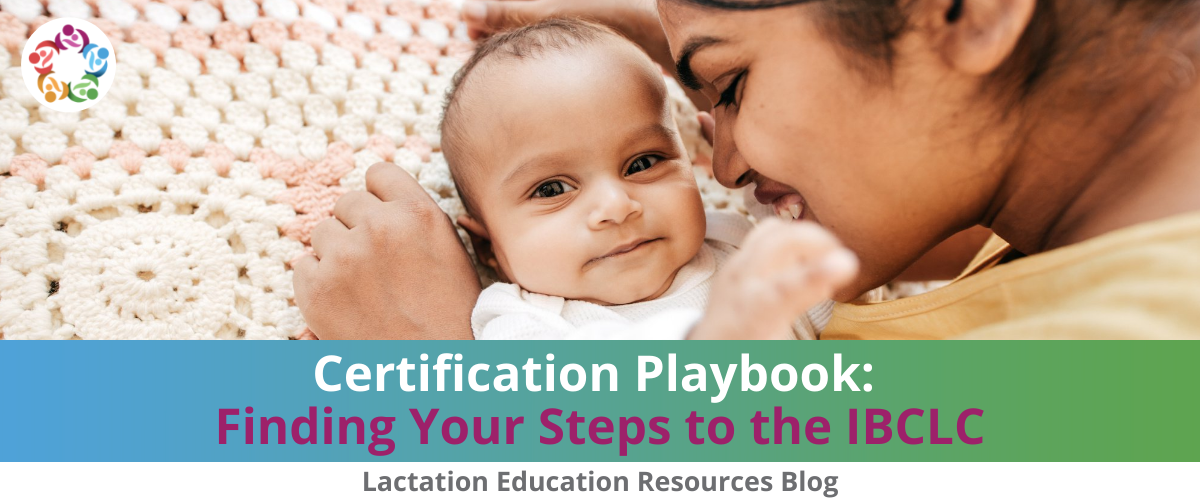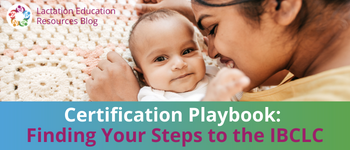 If you're considering becoming an IBCLC, you already know that helping breastfeeding families is a passion. It can be one of the most rewarding jobs on the planet.
At LER, we know that if becoming an IBCLC is your passion, you can make it happen.
When you're starting out, the journey can seem daunting–multiple pathways, so many requirements! We created this blog series to help.
Consider this four-part series your gameplan for becoming an IBCLC. It offers guidance for each step of the process, easing the way for you to take bold steps toward your goal. Joining us will be Angela Love-Zaranka, BA, IBCLC, RLC, Program Director at Lactation Education Resources (LER). Love-Zaranka served on the IBLCE Board from 2006 to 2012 and sat on IBLCE committees until 2015.
Your Big-Picture Plan
If you're like most aspiring IBCLCs, you already have a full life–perhaps another career, a family, and other responsibilities. How will earning your IBCLC fit in?
To answer that question, you need a long-term plan. So let's create one!
Consider this series your playbook to getting to the IBCLC exam.
The Requirements
First, we need to evaluate where you are in each of IBLCE's three requirement categories:
Lactation-specific education.
Everyone who sits the exam must complete 95 hours of breastfeeding-specific education (including a 5-hour communication course).
Contact hours helping lactating families.
Do you have any clinical experience? Are you a volunteer with a
recognized breastfeeding support organization
or a healthcare provider who works with lactation? If not, what are your thoughts on how you want to fulfill that requirement?
"By figuring out what you have left to do in a big-picture sense, you can begin to set goals to fill in those missing pieces," Love-Zaranka says.
The Timeline
When it comes to planning for the exam, there is one important detail to remember: All exam requirements must be met before you can apply to take the exam—and the window to apply closes months before the exam actually occurs.
Two exams are usually offered each calendar year. As you're setting a goal for when to take the exam, you'll need to refer to
IBLCE's Key Dates
. This will let you know when each exam's application window opens and closes.
Is This Your Exam Year?
So … can you take the exam this year?
You might be able to.
It depends on how many of the application requirements you have already met.
If you have your college coursework done and are already fulfilling your clinical hours, and all you need is a 95-hour course, you might be able to sit this year.
Getting through a 95-hour breastfeeding-specific course takes a bit more than 95 hours.
The magic number: Figure out how many weeks are left until you must apply, and determine how many hours you'd have to work each week to finish. If your life and schedule can accommodate those hours, this might be your year.
Expect it to take discipline and focus—and plan for contingencies. Budget in time for unexpected things that come up—family difficulties, or if you become ill.
Can't Test This Year? Don't Give Up.
If you still have college health science courses to take, or you need a lot more clinical hours, those may not be steps you can complete by this year's application deadline.
And that's okay.
There's another IBCLC exam coming next year! (And there will be more after that.)
The biggest mistake? Realizing you can't sit this year and letting it stall your momentum.
Planning now to fulfill the requirements for the next exam–or the one after that–is the way to make it happen.
"You can get there if you develop a planning mindset," Love-Zaranka says. "It is like building a walkway one rock at a time, and you need to find your rocks. What pieces do you still need? How are you going to get them?"
It's okay if you don't have answers to all of these questions. The key is to figure out what you do know, and then start filling in the blanks.
Chances are, you're closer than you think!
The Best Place to Start
The journey starts with one step. But which one?
"If you have to start with one piece, pick breastfeeding education," Love-Zaranka says.
Digging into lactation education can help you be sure you really want to be an IBCLC, prep you for a mentorship or clinical hours, and help keep your passion alive on the journey.
A great first step, easily doable this year? Become a Certified Breastfeeding Specialist (CBS).
A Worthwhile Trip
College coursework. Clinical hours. Lactation Education.
These are the basic steps for everyone, but each person's journey looks a little different.
And actually, that's okay.
"Your journey is what is going to make you a really great lactation consultant," Love-Zaranka says. "It can feel like a long road, but this is not the time to rush it. The journey brings with it wisdom. Every step is enriching your eventual practice."
What will your unique journey look like?
See the entire Certification Playbook series
By accepting you will be accessing a service provided by a third-party external to https://www.lactationtraining.com/