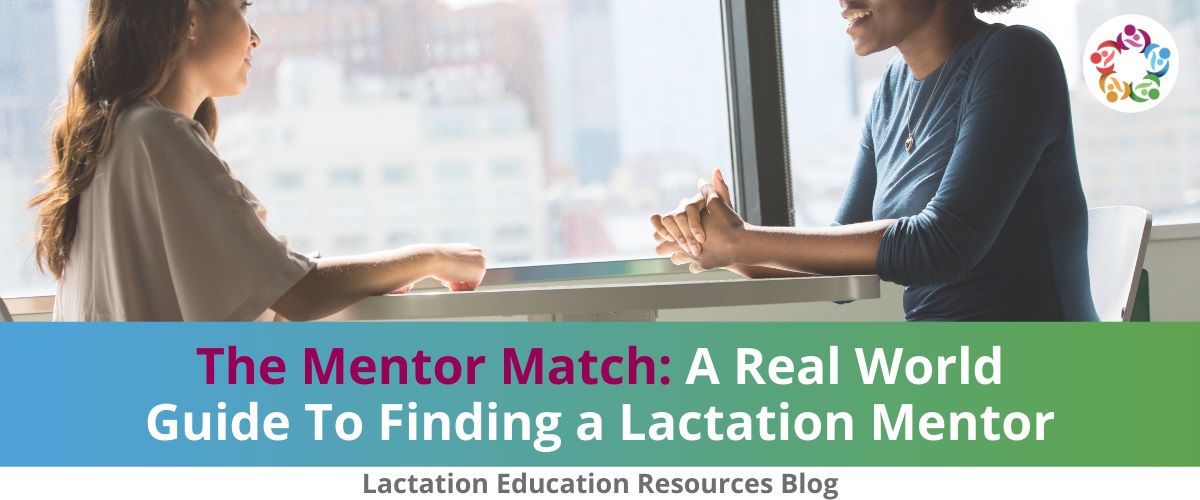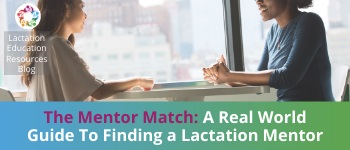 On the journey to becoming an IBCLC, few things are as helpful as having a mentor. Whether you're just starting to explore the field, or already know you want to pursue Pathway 3 to qualify for the exam, finding an experienced IBCLC to show you the ropes and help you realize your dream can be invaluable.
It can also be difficult.
"It is very challenging, especially in the time of Covid-19, to find a mentor," says Angela Love-Zaranka, BA, IBCLC, RLC, Program Director at Lactation Education Resources. "Ordinarily, people reach out to their local hospitals, but many of those places are not accepting students right now. It poses a barrier."
Covid-19 isn't the only hurdle, either. "Many places require interns to have another license or certification to even volunteer," Love-Zaranka adds. Add to that the fact that IBCLCs are very busy people—taking on an intern often just isn't on their radar.
Finding a mentor is possible, however—even during a pandemic. Below, Love-Zaranka shares her suggestions.
Get prepared
. Before you're ready to begin working with a mentor, obtain a foundation of lactation knowledge. "It can be hard enough for new parents to have a lactation consultant coming in," Love-Zaranka says. "Bringing in a student adds another layer. The student needs to have some knowledge going in the door."
Your didactic learning can continue alongside your clinical experience, but you need at least a foundation in the anatomy and physiology of lactation and a thorough knowledge of latch and positioning, among other things, before you seek a mentor.
Start early
. When should you start looking for a mentor? The sooner, the better—even if you are still unsure which Pathway is right for you. "Having a mentor is helpful regardless of your Pathway," Love-Zaranka says. "A mentor can help guide the process of choosing a Pathway."
Cast a wide net
. Next, ask who in your community could mentor you. Do the local hospitals employ IBCLCs? What about the pediatricians' offices? Who are the IBCLCs in private practice? Plan on using a "scatter approach," and contact as many of these people as you can.
"IBLCE encourages candidates to have a variety of internship experiences in different settings," Love-Zaranka says. "It would be great if you interned in a hospital, a private practice, and a pediatrician's office—they all require different skill sets." So if more than one of your contacts responds positively, that's great! Realistically, though, it can be hard to find even one mentor—another good reason to diversify your search. "Reach out to everybody," she says. "See what happens."
Connecting with state or local breastfeeding coalitions can also yield contacts. And getting connected with your local hospital's volunteer organization can help, too. "Hospitals require certain steps—privacy training, background or security evaluation, vaccinations—in order to walk in their door and begin seeing patients," Love-Zaranka explains. "One option is to go through the Red Cross or the auxiliary program at your local hospital, because they will help you with the steps you need."
Consider virtual opportunities
. Because of Covid-19, IBLCE is currently allowing clinical hours to be obtained virtually. This means your mentor does not need to be located in your community. Many IBCLCs are now offering telehealth consults to their clients—and that means they may also be able to offer virtual mentorship. If you identify an IBCLC from another area who seems like a great fit, go ahead and approach them about mentoring you. "We've basically opened up the world," Love-Zaranka notes. "It's one of the silver linings of Covid-19."
Perfect your pitch
. How do you approach a potential mentor? Phone calls, letters, and emails are all acceptable ways to reach out, but one thing is key: You need to make it clear that you are not just asking for help—you are also ready and willing to give back. "Leading with, 'I need a mentorship' is not the most successful approach," Love-Zaranka says. "Ask yourself, 'What can I do for this IBCLC?' What do you bring to the table that could help their work?"
Evaluate your strengths and skills, and be ready to stretch yourself to contribute. The interns that Love-Zaranka has supervised have ended up making significant and meaningful contributions—from one who identified a gap between hospital policy and current recommendations and gave a presentation on it, leading to policy change—to one who curated a list of community resources for new parents.
Once you develop your clinical skills, you can also ease your mentor's workload—an important selling point for IBCLCs, who are often stretched thin. "When I get an intern trained to a certain point, I know I will have an extra set of hands," Love-Zaranka notes. Setting up a pump for a parent, showing a family how to use a supplemental feeding system, checking on a latch and position—these are all tasks an experienced intern can perform. "One way to sell yourself to a potential mentor is to say, 'Hey, I can help you with your work,'" Love-Zaranka says.
Bring your resume
. When you meet with a potential mentor, have your resume in hand, regardless of your current level of lactation experience. Having a professional resume to share shows that you're serious and allows both of you to set up expectations and guidelines before starting an internship.
Understand the fine print
. Once you find a mentorship site willing to take you on, be sure to carefully evaluate the agreement. Interns are sometimes asked to sign a "non-compete agreement," which can have a buy-out clause. It can get confusing, so go over any paperwork carefully, perhaps with legal counsel.
Suggest a trial period
. Starting with a 30-, 60-, or 90-day test run of a new mentorship relationship can ease concerns for both of you. "Planning this up front is helpful," Love-Zaranka says. "Try it out, and then have an honest conversation about whether it's working. It helps ensure that the fit is right on both sides."
Consider a school affiliation
. Sometimes, the best way to get your foot in the door with a mentorship site is to be connected with a learning institution. Because of Lactation Education Resources status as a school, Pathway 3 students can participate in a
Clinical Internship Program
. This program establishes affiliations with hospitals in your area that are willing to mentor students. The Clinical Internship Program provides both the intern, and in many cases, the new IBCLC mentor, with coaching and support along the way. These relationships build deeper levels of engagement, adding up to a richer learning experience, according to Love-Zaranka.
Visit
here
to learn more about ways that LER can support your internship experience.
Related Posts
By accepting you will be accessing a service provided by a third-party external to https://www.lactationtraining.com/