Lactation Education Resources provides online training for nurses, physicians, ancillary and clinic staff for the Baby Friendly Hospital Initiative.
What is the Baby Friendly Hospital Initiative (BFHI)?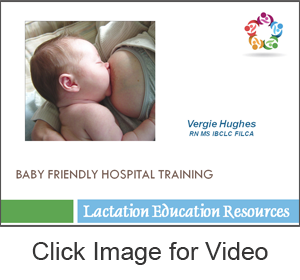 The Baby Friendly Hospital Initiative (BFHI) is a worldwide program of the World Health Organization and UNICEF, launched in 1991 following the Innocenti Declaration of 1990.
The Baby Friendly Hospital Initiative is a global effort for improving the role of maternity services to enable mothers to breastfeed babies for the best start in life. It aims at improving the care of pregnant women, mothers and newborns at health facilities that provide maternity services for protecting, promoting and supporting breastfeeding, in accordance with the International Code of Marketing of Breastmilk Substitutes.
Health facilities that meet the criteria for Baby Friendly can apply for accreditation as Baby Friendly.
Group Training for Hospitals
For a personalized proposal including any applicable Group Discounts
call 443-203-8553 or email This email address is being protected from spambots. You need JavaScript enabled to view it. Juanita Spears BFHI Manager
Individual Healthcare Personnel Course (Nurse)
15 L-CERPs and 15 Nursing Contact Hours

$129.00
Individual Provider Course (MD, CNM, NP, PA)
Instructor is Dana Silver MD, FAAP, FABM
3 CME's

$45.00
What are the Criteria for Baby Friendly Hospital Accreditation?
The criteria for a hospital's Baby Friendly accreditation include:
Have a written breastfeeding policy that is routinely communicated to all health care staff.
Train all health care staff in skills necessary to implement this policy.
Inform all pregnant women about the benefits and management of breastfeeding.
Help mothers initiate breastfeeding within one hour of birth.
Show mothers how to breastfeed and maintain lactation, even if they should be separated from their infants.
Give newborn infants no food or drink other than breastmilk, not even sips of water, unless medically indicated.
Practice rooming in - that is, allow mothers and infants to remain together 24 hours a day.
Encourage breastfeeding on demand.
Give no artificial teats or pacifiers (also called dummies or soothers) to breastfeeding infants.
Foster the establishment of breastfeeding support groups and refer mothers to them on discharge from the hospital or clinic.
The program also restricts use by the hospital of free formula or other infant care aids provided by formula companies.
Training for BFHI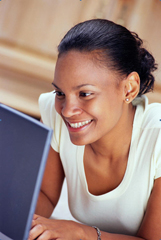 Step 2 above is 'Train all health care staff in skills necessary to implement this policy'. The BFHI 10 Steps to Breastfeeding Success requires 15 hours of didactic training and five hours of clinical competency training.
Our online training program will address three key issues:
Accessibility to all staff members at convenient times (24/7/365)
Behavior changing training
Cost effectiveness
Typical training programs where students attend on-site training classes require enormous amounts of staff time and can become costly. Programs need to be set up, classes need to be repeated so all staff members can attend and attendance needs to be monitored. This all adds to training costs. A webinar is a great solution allowing fixed costs so there are no surprises when all staff has not yet been completely trained and you have come to the end of your budget.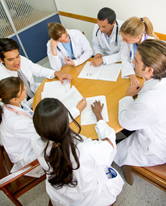 Our webinar format consists of 5 Chapters with multiple lessons per chapter personalized to your hospital. Each lesson is recorded in webcast format so the learner sees the power point slides and hears the speaker's voice. Each lesson is 20-45 minutes in length so students can access the materials when they have a short window of time, or can do several lessons when they have a longer period of time to devote to it. Each webcast is sprinkled with realistic hospital scenarios, links out to relevant web pages and contains quick quizzes and 'fast facts'. Add new staff on your schedule as the webcasts can be started at any time and are available 24/7/365. Our students are involved and engaged in their learning.
Do you have your own Learning Management System?
Our courses are SCORM compliant and can be loaded onto most any system you have. Our tech support will work with your IT to make sure that it integrates with your Learning Management System. Contact us at This email address is being protected from spambots. You need JavaScript enabled to view it. for more details.
Thinking of creating your own Training Program?
View our Cost Comparison
What other hospitals are using Lactation Education Resources for their Baby Friendly Training?
Find out with our interactive map!

Our Logo shows healthcare centers that have enrolled in our training for BFHI.
Group Training for Hospitals
For a personalized proposal including any applicable Group Discounts
call 443-203-8553 or email This email address is being protected from spambots. You need JavaScript enabled to view it. Juanita Spears BFHI Manager
Review the actual course!
Click here to request trial access to the Baby Friendly Training Course.
Our instructors include:
Vergie Hughes RN, MS, IBCLC, FILCA, RLC
Jane Bradshaw RN, BSN, IBCLC, RLC
Lou Lamb RN, MS, IBCLC, RLC
Angela Love-Zaranka BA, IBCLC, RLC