Sekeita Lewis-Johnson, DNP, FNP-BC, IBCLC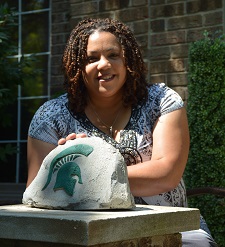 Dr. Sekeita Lewis-Johnson is a Board-Certified Family Nurse Practitioner, International Board-Certified Lactation Consultant (IBCLC) and Birth Doula. She is the Accredited Provider Program Director and an Instructor for LER. She is a national speaker with an international audience.
She is one of the Founding Members of Southeast Michigan IBCLCs of Color and Mama's Mobile Milk. She serves as a Board Director for The United States Breastfeeding Committee. She is an active participant of The Maternal Infant Health, Health Equity Action Committee for the State of Michigan, and a member of Mi Milk Collective. She serves her community by volunteering on the Beloved Community Initiative Leadership Team in Farmington Hills, Michigan. She also provides health equity training to local municipalities.
Dr. Lewis-Johnson has received multiple awards during her career. Most notably she received 'The Peoples' Choice Award' from The Michigan Council of Nurse Practitioners for her poster presentation entitled: Implicit Bias of Health Care Providers and Breastfeeding Disparities amongst African American Women.
Click Here To See All Courses By This Instructor!