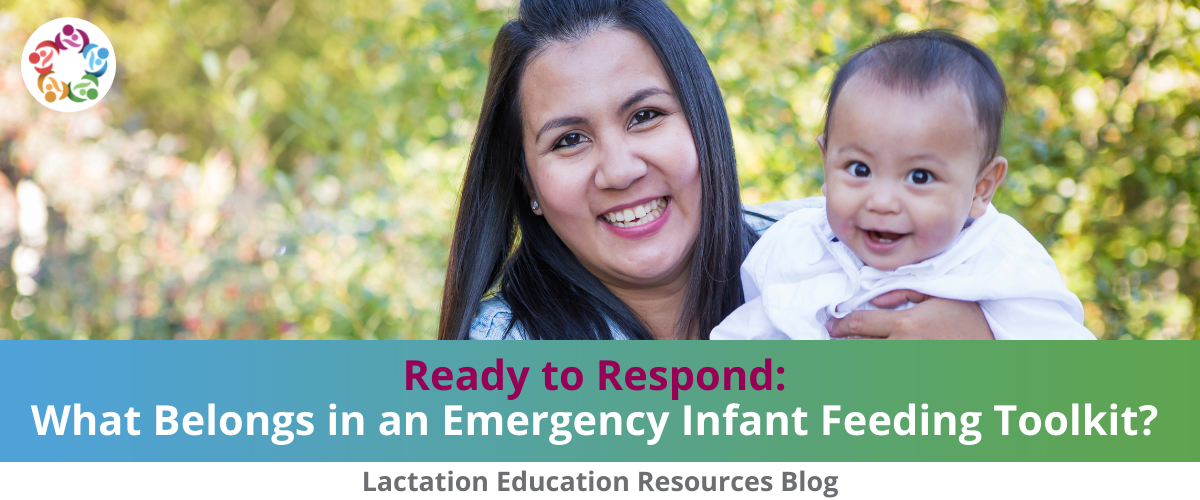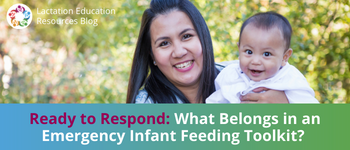 Imagine a disaster has struck your community. As the person with the most knowledge of infant feeding around, you've been called upon to help parents with babies and toddlers. You're handed some small bags and advised to share them with the families as you meet with them.
What's in the bags? What would you want to see when you opened them?
Welcome back to Ready to Respond, our blog mini-series on Infant and Young Child Feeding in Emergencies (IYCF-E).
This time, we're talking about infant feeding toolkits, and what belongs inside them.
When disaster strikes, having a few simple items available can mean the difference for a lactating parent and their baby or child. What are they? Some you can probably intuit–others may surprise you.
Item 1: Hand sanitizer.
At some point during many emergencies, running water becomes unavailable.
Item 2: Sterilizing wipes.
Also a good precaution in case there isn't running water.
Item 3: Infant feeding cups.
Why cups and not bottles? Because cups are the preferred feeding medium during an emergency if a baby cannot be put to the breast/chest. Across the globe, research has shown cups to be the safest, easiest, and cleanest way to feed a baby during a disaster, and they can be used with even the youngest infants. Unlike feeding bottles and nipples/teats, cups are easy to clean–a big plus when clean water and fuel for sterilizing may not be available. Cups can also be disposed of and a new one used for the next feeding.
Item 4: Human milk storage bags.
Bags with wide openings are especially helpful so the parent can hand-express milk directly into the bag, avoiding contact with other (possibly contaminated) surfaces.
Item 5: Cooler bag and ice packs
for safely storing expressed milk.
Item 6: Nursing cover.
Stressful conditions, crowding, lack of privacy–these are some of the biggest issues for lactating parents during an emergency. They can even cause issues with milk ejection reflex–which parents may interpret as lack of milk supply. Providing comfort and calm for breastfeeding or expressing milk is essential. Having a cover can promote privacy, peace, and security for both parent and baby.
Item 7: Light.
Emergencies often entail power outages, and having light to nurse, express milk, cup-feed, or prepare formula at night is essential.
Item 8: Bottled drinking water.
This is essential for hydrating the caregiver and for preparing infant formula, if necessary.
Item 9: Educational materials about feeding infants and young children in emergencies.
These materials can be crucial for both parents and first responders. Materials should be low-literacy and include just the important information.
What Can You Do?
As a lactation care provider, consider working with your local community's first responders to ensure they have access to emergency feeding toolkits to distribute to families with infants and young children in the event of an emergency.
There's so much more to know about IYCF-E! For a deeper dive, enroll in our course,
Infant and Young Child Feeding in Emergencies
. Instructor Malaika Ludman, MPH, CLC, brings years of work in international public health to the course, while co-instructor Latona Giwa, BSN, RN, IBCLC, contributes her experience as co-founder of the New Orleans Breastfeeding Center, her first-hand experience working in shelters following disasters, and her experience co-creating Infant Ready, a grant-funded program of the New Orleans Breastfeeding Center that provides disaster preparedness training and supplies to families and their supporters. Together, Ludman and Giwa provide an in-depth exploration of IYCF-E for lactation professionals.
By accepting you will be accessing a service provided by a third-party external to https://www.lactationtraining.com/