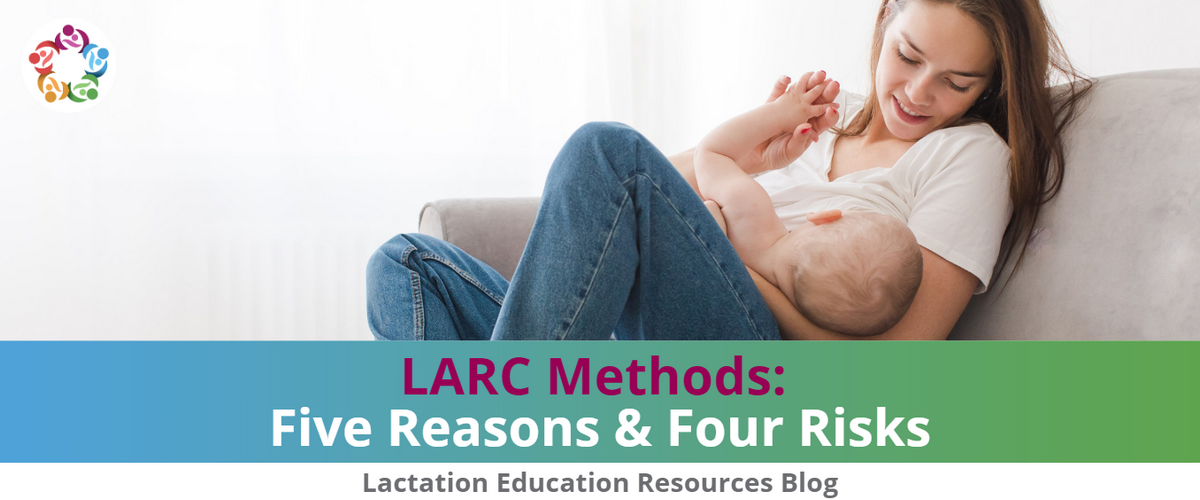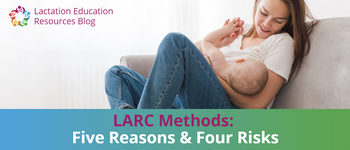 How much do you know about LARC – Long Acting Reversible Contraceptive methods? You are likely to field questions about them from your clients: Which ones are safe during lactation? Will they impact milk supply? What are the risks?
Below, we share five reasons LARC can be a great choice for lactating families, as well as four potential unintended consequences you'll want to know about before you counsel clients.
This info is drawn from our course "Use of LARC Methods During Lactation," where you'll find much more–learners explore all the types of LARC, how they work, their use during lactation (including impact on milk supply), and more.
Five Reasons to Choose LARC
LARC methods include hormonal IUDs, non-hormonal IUDs, hormonal implants, and hormonal intramuscular injections. There are several reasons a family in your care might want to choose one of these methods. Here are five:
They're effective.
LARC methods prevent pregnancy more than 99 percent of the time.
They're convenient.
Once a LARC method is in place, your client won't have to remember to take a pill or think ahead about having barrier methods available.
They're reversible.
With the exception of hormonal injections, LARC methods can be removed at any time with a rapid return of fertility.
They're cost effective.
Many LARC methods can be used for years once they're placed, and they are frequently covered by insurance, making them an affordable option for many families.
They reduce cancer risks.
New research has shown that IUDs may actually reduce the risk of ovarian, endometrial, and cervical cancers. Although more research is needed, IUDs are even being studied as a potential treatment for these cancers.
Risks & Unintended Consequences
There are a few notes of caution you must be aware of when counseling clients about LARC methods.
Overall, research is limited.
Data currently available across LARC methods support their use during lactation, and suggest that they do not negatively impact milk supply, milk transfer, or infant health outcomes.
However, it is important to know – and to inform your client – that research on LARC during lactation is in its infancy, and much more research needs to be done.
Risk of IUD expulsion goes up when placed postpartum.
If your client is considering an IUD, it is important to know that there is a greater risk of expulsion of an IUD if it is placed in the postpartum period.
When not placed postpartum, there is a 3% to 10% chance of expulsion. However, when placed postpartum, the risk is 10% to 40%, depending on how soon after delivery the IUD is placed.
Possible increase in postpartum depression with injections.
Some evidence from animal studies suggests that using DMPA injections may cause an increased risk for postpartum depression. Because of this, the World Health Organization recommends waiting at least 6 weeks postpartum to initiate use of this LARC, unless it is the best possible option for your client. More research is needed.
Informed Consent is Key.
Perhaps the most important advice when counseling clients about LARC is not about any specific method, risk, or research study.
The most important thing to remember is that contraceptive choices are personal and must be made solely by your client. It is one area where setting aside your own views, experiences, and biases and providing family-centered care based on your clients wishes, goals, and preferences is of critical importance.
Learn more about offering client-centered care as well as all the details on LARC when you enroll in "Use of LARC Methods During Lactation." Instructor Leslie Southard, Board Certified Ambulatory Care Pharmacist, Certified Breastfeeding Specialist, and doula, has a career specialty in medication use during pregnancy and lactation.
By accepting you will be accessing a service provided by a third-party external to https://www.lactationtraining.com/