Angela Love-Zaranka BA IBCLC RLC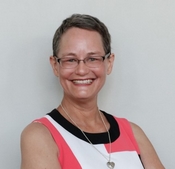 Angela has been a La Leche Leader since 1990 and a Board Certified Lactation Consultant since 1997. She has served on several non-profit boards as a member of the finance committee and treasurer.
She received her undergraduate degree from Trinity College in Washington DC and her graduate work, also at Trinity, is towards a Master's of Science in Administration, specializing in non-profit management.
She is an IBCLC in private practice in Alexandria, VA, and is the lead Lactation Consultant at DeWitt Army Hospital in Alexandria, Virginia. Angela has been a valued member of the Lactation Education Resources teaching staff for over six years and is currently the Program Development Specialist for LER.
Angela is available for speaking engagements and can be reached at This email address is being protected from spambots. You need JavaScript enabled to view it..