Angela Love-Zaranka, BA, IBCLC, RLC, FILCA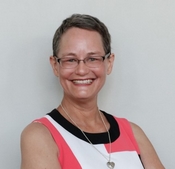 Angela brings nearly thirty years of experience in lactation support, education, and leadership.
A La Leche League Leader since 1990 and a Board Certified Lactation Consultant since 1997, she provides significant leadership to the profession. She has served as a board member for the credentialing organization for lactation consultants worldwide (IBLCE) and more recently the International Lactation Consultant Association (ILCA). Additionally, she has consulted for several non-profit organizations, hospitals and governmental agencies on access to lactation care and policy implementation. She has created lactation programs at military hospitals and provided a leadership role in the accreditation and redesignation of a Baby-Friendly Hospital. In her role as an IBCLC, she has provided clinical lactation support to thousands of families
She holds an undergraduate degree from Trinity College in Washington DC and is working towards a Master's of Science in Administration, specializing in non-profit management.
A valued member of the teaching staff for more than 15 years, she continues to be inspired by lactation research, the latest trends in the profession and the families served by lactation support providers around the globe. One of her goals for LER is to advance lactation management information and skills to everyone from breastfeeding counselors to advanced lactation practitioners.
Click Here To See All Courses By This Instructor!