Onsite Courses

100-Hour & 500-Hour Internships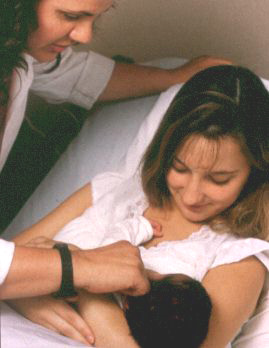 If you have a good deal of clinical lactation management practice and would like to validate and enhance your clinical skills, the 100-hour program is for you. This program is specifically for professionals who just want to increase their experience in an area where they do not have experience, such as a NICU nurse who wants experience with out-patient, older healthy babies.
If you are new to the field of lactation management and would like to qualify for the IBLCE Exam by Pathway 3, the 500-hour program will offer you a wide range of clinical experiences working with experienced lactation consultants. Start at any time, choose your days and hours.

This 2 day workshop is designed to be an interactive, hands-on session with videos, demonstrations and case studies.

The first few days after delivery is the critical time to start successful breastfeeding. Maternity nurses may feel like they lack the skills to be the bedside resource for mothers.
Create a team to provide the best support for your breastfeeding moms. The Breastfeeding Resource Nurse will be at the bedside to give guidance and trouble shoot as needed. Train several of these specialists to assist your Board Certified Lactation Consultants.

In-Patient Breastfeeding Specialist course is a 1 or 2 day course that will prepare nurses working in a maternity unit to provide breastfeeding assistance for their parents. The course focuses on the skills necessary to assist mothers to initiate breastfeeding and problem solve common difficulties.

With the emphasis on exclusive breastfeeding by the Joint Commission, hospitals are taking a second look at the breastfeeding support that they provide. Towards Exclusive Breastfeeding is designed to assist hospitals address the issues of exclusive breastfeeding. This is a thorough discussion of how the hospital experience impacts new breastfeeding mothers.
More Articles...